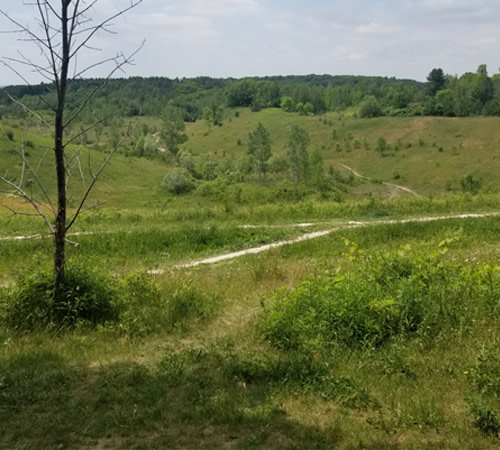 Thanks to again to Jaimie Walker for setting up this course earlier this year for her family to run. Now everyone in the club can benifit!
This is a point-to-point course that must be completed in numerical order. Since it is a GPS course you can run it anytime. Walker Woods and Glen Major forest can be very busy on weekends so it is recomended to go during the week if you have time.
It will be similar to how our Wednesday night series were run in the summer of 2020. There will be NO flags or ribbons on the course, and you will need a smartphone or GPS watch if you want to be sure you have found a control.
PDF maps will be available to those club members who have already sent us a waiver for 2021. You can print them out at home or go to Staples. Detailed course notes will be in the same folder as the maps.
You will find a 2nd set of maps in a sub-folder called "Beginner". These would be suitable for inexperianced or young orienteerers since these maps have trail markers found in the forest marked on the map - making it easier to navigate.
Here is how it works:
Sign up as a club member (if you haven't already)
Send a signed waiver to

[email protected]

Once we receive your signed waiver, you will gain access to the maps in PDF format and the course notes. You can access the maps HERE.
Click "Select Event" and go to folder Canada - Ontario - Toronto - Uxbridge - WalkersWoods Adventure 2021".
Go to the park and when you are near the start location click on "Go to Start".
The app will 'punch' the start automatically and the timer will begin.
You will hear a beep at each control as you go through the course. Continue to the finish and you will be able to see how you did by clicking "Show Results"