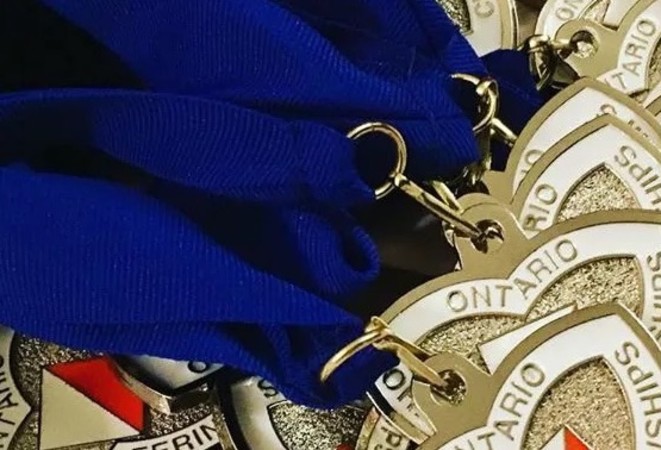 Orienteering as we know it in Ontario began just over 50 years ago in the Guelph area as its heart. One of the main catalysts was Sass Peepre, a Scandinavian, an educator and of course, an outdoor enthusiast. Many current orienteering "old timers" remember him well.
One of those nexuses was the University of Guelph, and surrounding terrain. We return to that heartland this November, when the vegetation will be at its peak (in other words, it will have receded a bit!), for the 2019 Ontario Orienteering Championships.
Join us for a weekend of amazing landscapes, both forested and urban, and some of the most intricate contour detail you'll find in Canada, around the small hamlets of Arkell and Starkey. While not quite a "last chance," growing urban expansion of the city of Guelph make the future of some of these areas uncertain. Revisit the terrain responsible for the very first World Masters' Games held in the area in 1985. This area will the site of the Long and Middle distance races.
For a bit of a change of pace, and terrain, the University of Guelph main campus arboretum and surroundings, will be our venue for the Sprint race. This promises a fast race, with lots of paths and mixed open and treed areas, where the level of speed required to win, will add to the navigational challenge.
As some say, carpe diem, sieze the day! This is an amazing opportunity to navigate in some of the top terrain in Southern Ontario, and also revisit a piece of Ontario Orienteering history.
Some nice map snippets on attackpoint.org and a discussion thread.
Results
Documents
Dates:
Nov 2nd - 3rd
Registration
Organizers

Meet directors: Eugene Mlynczyk Oliver Tabay

Format

Male / Female age classes
The top 3 overall in each class will be recognized with prizes at the end of the weekend. The top 3 eligible finishers in youth and elite classes will receive Ontario medals; for adult (35+) categories, only a first place Ontario medal will be awarded. Here is how eligibility is defined by Orienteering Ontario: "You are eligible for the Ontario Orienteering Championships if you are a member of an Ontario orienteering club OR if you are an Ontario resident who belongs to any orienteering club affiliated with Orienteering Canada."
Open classes
Choose the course you want to run - results will be kept and published but no prizes will be awarded.
Group classes
If you want to be out on course together with one or more friends or family members, this is for you.

Course / Class Table
Age classes are assigned to courses based on the following table. Note that if you wish, you may register in classes "above your age class" up to M21 or F21 are under 21 years old, and "below your age class", down to M21 or F21 if you are over 35 years old. The 16-S and 20-S classes are shorter courses that allow people to participate in a technically challenging but shorter course than the competitive 20- and 21 courses.

Middle and Long
Course
Male Classes
Female Classes
Open Classes
Group Classes
1
M10-
F10-
Open 1
Group 1
2
M12-
F12-
Open 2
Group 2
3
M14-, M16-S
F14-, F16-S
Open 3
Group 3
4
M16-
F16-
Open 4
Group 4
5
M75+, M80+, M85+, M90+

F75+, F80+, F85+, F90+

Open 5
Group 5
6
M20-S, M65+
F18-, F20-S, F21S, F45+, F55+, F65+
Open 6
Group 6
7
M18-, M21S, M45+, M55+
F20-, F21, F35+
8
M20-, M21, M35+

Sprint
Course
Male Classes
Female Classes
Open Classes
Group Classes
1
M10-
F10-
Open 1
Group 1
2
M12-, M14-, M16-S
F12-, F14-, F16-S
Open 2
Group 2
3
M75+, M80+, M85+, M90+

F75+, F80+, F85+, F90+

Open 3
Group 3
4
M20-S, M65+
F20-S, F45+, F55+, F65+
Open 4
Group 4
5
M16-, M55+
F16-, F18-, F20-, F21, F21S, F35+
6
M18-, M20-, M21, M21S, M35+, M45+

Cost

Early bird 1: until July 15th

Adult: $25/Race

Adult TOC/UKR member: $20/Race

Junior: $15/Race

Junior TOC/UKR member: $10/Race

Early bird 2: until Sept 15th

Adult: $30/Race

Adult TOC/UKR member: $25/Race

Junior: $17/Race

Junior TOC/UKR member: $12/Race

Regular fee: registration is closing Oct 25th

Adult: $35/Race

Adult TOC/UKR member: $30/Race

Junior: $20/Race

Junior TOC/UKR member: $15/Race