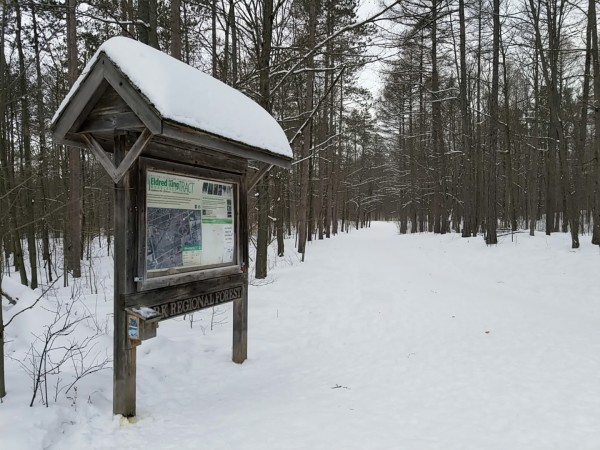 In light of new Covid numbers and new Provincial restrictions regarding outdoor gatherings we have decided to make the UKR Ocup a Virtual Event. As you may know this means participants will be using the MAPRUN6 app on their phones to keep track of the check point punches. You will need a smartphone or GPS watch to punch each control. See instructions below on how to use Maprun6.
The race time frame has been expanded to both the Saturday the 12th and Sunday the 13th ANYTIME. Race can be done ANYTIME on those 2 days.
Printed maps may be pickuped up on site Saturday 10am to 11:30am and Sunday 10am to Noon. PDF maps will be also be available to those who register with us. You can print them out at home or go to Staples for curbside service or pick them up on site. Detailed course notes will be forwarded along with the maps.
NOTE: Controls will be marked in the forest with small Orientering Flags c (about 6" High) and an attached QR code as a backup for punching.
Here is how it works:
Send a signed waiver to

[email protected]

Once we receive your signed waiver, before race day you will receive the maps in PDF format and the course notes
Click "Select Event" and go to folder Canada > Ontario > Toronto > 2022 > UKR Ocup
Choose one of the two courses to run.
Go to the park and when you are near the start location click on "Go to Start".
The app will 'punch' the start automatically and the timer will begin.
You will hear a beep at each control as you go through the course. Continue to the finish and you will be able to see how you did by clicking "Show Results"
** If you do not hear the beep or see the control register us the "Scan for QR" button at the bottom of the screen to scan the QR Code attached to the control flag to manually punch.**
Results
Documents
Start time
Saturday, February 12th, 12:01 am
Registration
Organizers

Meet directors: Eugene Mlynczyk

Course setters: Eugene Mlynczyk

Directions


Eldred King, 16232 Hwy 48 (Markham Rd), S of Cherry St and N of St John's Sideroad

Location
Eldred King

Map

Scale: 1:10000

Contour Interval: 5m

Revisions:

Format

The length of this run will depend on a participant's O-cup handicap. This race will feature the O-Cup Box which consists of a set of 6 to 8 checkpoints which participants may visit in any order. Particpants may skip check points in the box equal to their handicap point total. Handicap points are awarded as follows:

AGE
12-
13-14
15-16
17-19
20-34
35-44
45-54
55-64
65-74
75+
Female
6
5
4
3
2
3
4
5
6
6
Male
6
5
4
1
0
1
2
3
4
5
SPECIAL CASES
Handicap of 2: Women in the top 10 of Canadian orienteering rankings
Handicap of 0: Men ranked in the top 10 of Canadian orienteering rankings

Cost

$10 for Non TOC Club Members.

FREE for UKR Club and TOC Club members.

Consider Joining our Club for discounts for future 2022 events!

Notes

***NOTE***

If you are a club member please just send in your waiver with a 2022 date on it. No need to go through Zone4 registration.

SportIdent electronic timing will NOT be used at this event. Please download and install Maprun6 before going to the site. See the notes above.

We have created a short YouTube video on how to use Maprun6. Click HERE to watch!