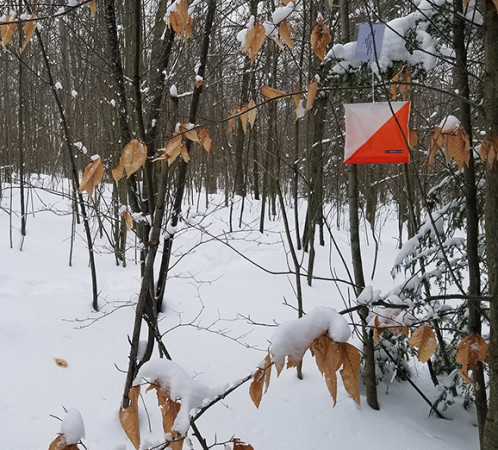 The O-Cup Knockout is back! Come out for a frenetic day of racing and recreational orienteering in the beautiful snowy Palgrave Forest and Wildlife Area. Compete in a series of stages using the Handicap system to drop controls at each stage. Don't get Knocked Out!
This is the final race in the Orienteering Ontario O-Cup Series, and the series trophy will be awarded at this event! Check out current series point standings: O-Cup 2022-23 Series Results
Parking
Duffy's Palgrave Lot - space is limited so please scooch in, and overflow parking is along Duffy's Lane
Road Access
Drive north from Patterson Sideroad only, as Duffy's Lane is

closed for the winter

between the park entrance and Finnerty Sideroad.
Washrooms
A portable toilet will be set up in the parking lot.
Arena (Start/Finish)
~400m / <5mins walk east of parking lot.
Check-in
9:30 to 10:15 at Arena (

late arrivals

will be checked in after race start)
Refreshments
Hot chocolate and snacks! Bring your own food / energy bars to refuel in between races.
Clothing Drop
There will be a dry place to leave your warm jackets and spare clothes or shoes and any snacks right at the start/finish, so fast finishers can stay warm while they wait to restart.
Running Conditions
There is 6-12 inch-deep snow in the forest with a very light crust. Local trailbreakers have stomped down all the trails on the map for us, but these have gotten polished by many sunny days and can be a bit slippery. Saturday update:
A couple more inches of soft fluffy snow has made for better grip on the trails, but be mindful of the potential ice underneath. It's a winter wonderland out there!
Best Footwear?
Snowshoes are very helpful off-trail, and anything with spikes or grip is helpful on the trails. In most cases, you will not need to trudge far off trail unless choosing a cross-country route.
Results
Documents
Start time
Sunday, March 12th, 10:30 am
Registration

Time: 9:30 am

Organizers

Meet directors: Barbara Goss

Course setters: Barbara Goss

Directions

Travel north on Highway 50 approximately 15 km past the town of Bolton, and turn left (west) on Patterson side road. Travel west approximately 2 to 3 km then turn right on Duffy's Lane. Travel north on Duffy's Lane approx 4km until the major bend in the road where there is a sign for the Palgrave Forest and wildlife area parking lot. That is the site of both the registration and parking.

Location
Palgrave

Map

Scale: 1:10000

Contour Interval: 5m

Revisions:

Format

The Knockout is a 3-stage race with about 10 controls each, including 7 O-Cup "box" controls, where you can choose to drop a number of box controls equal to your handicap (below).

The top 20 finishers in Round 1 qualify for Round 2, and the top 10 finishers in Round 2 qualify for Round 3. The next race may be restarted with fewer qualifiers to avoid a very long wait time for early finishers (see the schedule below.)

If you miss qualifying to continue racing, you may still run either of the other races recreationally, if you are able to start by the set start times.

As with all O-Cup races, the first person to finish the event is the winner, with series points awarded based on your finishing position. Your ranking is based on the last course you complete competitively, not the one you complete recreationally. So try your best to get one of the slots to improve your place in the race!

Race and Recreational Schedule

Round 1:

Round 2:

| | |
| --- | --- |
| Race Mass Start | Top 20 Qualified or by 11:20 |
| Recreational Starts | not later than 11:30 |

Round 3:

| | |
| --- | --- |
| Race Mass Start | Top 10 Qualified or by 11:50 |
| Recreational Starts | not later than 12:00 |

All Courses Close: 12:30

Cost

BEFORE March 1st

Adults: $25/person but ONLY $20 for TOC/UKR members
Youth: $15/person (16 & under) but ONLY $10 for TOC/UKR members
Family: $55.00 (2 Adults and 2 Youths)
Community Groups(cubs, scouts, guides, cadets, etc): $15.00/person

AFTER and on March 1st

Adults: $30/person but ONLY $25 for TOC/UKR members
Youth: $20/person (16 & under) but ONLY $15 for TOC/UKR members
Family: $65.00 (2 Adults and 2 Youths)
Community Groups(cubs, scouts, guides, cadets, etc): $20.00/person

Consider joining our club for the discount on this and all future TOC events for 2023.

Please submit a signed waiver for 2023 either via email or at the race registration.

Notes

The Knockout uses The Handicap Orienteering And Scoring System (THOMASS). The race courses will feature boxes of 7 controls which participants may visit in any order. Participants have the option to skip controls in the box equal to their handicap point total. Handicap points are awarded as follows (ages as of December 31, 2023):

| | | | | | | | | | | |
| --- | --- | --- | --- | --- | --- | --- | --- | --- | --- | --- |
| | 12- | 13-14 | 15-16 | 17-19 | 20-34* | 35-44 | 45-54 | 54-64 | 65+ | 75+ |
| Women | 6 | 5 | 4 | 3 | 2 | 3 | 4 | 5 | 6 | |
| Men | 6 | 5 | 4 | 1 | 0 | 1 | 2 | 3 | 4 | 5 |

* and Women and Men ranked in the top 10 in Canada

Example: A woman 45-54 as of December 31, 2023 may skip 4 box controls and only take any 3 of the 7.