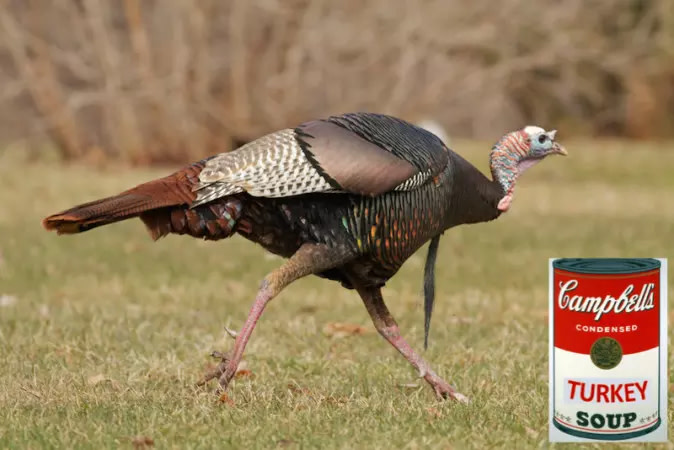 Condensed Turkey Soup in a can? No way! The title here refers to one of the longest-running annual orienteering events in Ontario. Started way back around 1982 when a few friends from both the Ukrainian Orienteering Club and the Toronto Orienteering Club (UKR and TOC ... TURK, get it?) joined together to hold a fall event around Thanksgiving. If you connect the dots, you'll understand how the name Turkey Trot came to be.
This year's edition, let's call it the 41st annual Turkey Trot (a great approximation, but the spirit of the fact is correct), will be condensed into a single day. The day will feature 3 different difficulty courses, at beautiful Albion Hills Conservation area in Bolton
Your hosts, as usual, are both the Ukrainian and Toronto Orienteering Clubs. Come one, come all, gobble, gobble!
P.S. Did I forget to mention there will be the usual excellent selection of PRIZES for the winners and as draw prizes. Nice!
Photos are now up! See them HERE.
Results
Documents
Start time
Sunday, September 17th, 10:30 am
Registration

Time: 9:00 am

Organizers

Meet directors: Andrew Bell

Course setters: Svatka Hermanek

Clinic coordinator: Rick Sommerkamp

Major intersection
Highway 50 and Old Church Road
Directions

Albion Hills Conservation Area is located 9 km NW of Bolton on Hwy 50. Bolton itself is about 14km NW of the junction of Hwy 50 and Hwy 7 which in turn is about 1.2km west of the junction of Hwy 7 and the north end of Hwy 427.

The meeting point is at the Old Lakeview 1 Picnic area. Follow signs for "Old Lakeview 1, 2" to this location.

Location
Albion Hills - Old Lakeview 1

Map

Scale: 1:10000

Contour Interval: 5m

Revisions:

Format

Classic Long distance for Beginner, Intermediate, Advanced. There will be a staggered start for each course.

Cost

Registration is open until 11:59pm on Friday, September 15th.

A limited number of extra maps will be available on the day of the event.

Take advantage of our club member discount - Become a Member today!

EARLY BIRD PRICES - AVAILABLE UNTIL AUGUST 17

Non-Members
TOC / UKR Members
Adults
$35
$20
Juniors or Seniors (17 & under, 65+)
$25
$15
Family (2 Adults & 2 Juniors)
$60
Beginners' Clinic & Course
$40

REGULAR PRICES - AFTER AUGUST 17TH

Non-Members
TOC / UKR Members
Adults
$40
$25
Juniors or Seniors(17 & under, 65+)
$30
$20
Family (2 Adults & 2 Juniors)
$65
Beginners' Clinic & Course
$45

Notes

SportIdent electronic timing will be used at this event. Your entry fee includes the use of a SportIdent electronic timing card (SI card). If you have your own SI card, please provide the number when registering.