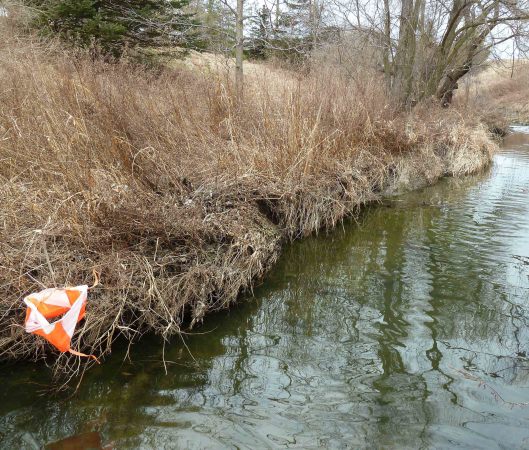 A long park with lots of difficult, technical ravines. But you can also stay on/close to the paths if you're less experienced. The control points will be marked by ribbons for 1 week. There will be ribbons marking the control points but we will offer the usual GPS course as well.
Run it or walk it with your family please make sure that you are following the recommendations of the City of Toronto regarding the use of parks and social distancing.
Please note that due to requirements from our insurer this program is open only for our club members (please sign up if you have not done so yet) and you will have to sign a waiver.
Here is how it works:
Sign up

as a club member

Send a signed

waiver

to

[email protected]

Once we receive your signed waiver, you will be able to download the map in PDF format from

here

.

Ribbons will be up for one week - you can run/walk the course anytime during the week.
If you want to take advantage of GPS punching:
You should be able to find the courses by selecting "Events Near Me"

Go to the park and when you are near the start location click on "Go to Start".

The app will 'punch' the start automatically and the timer will begin.
You will hear a beep at each control as you go through the course. Continue to the finish and you will be able to see how you did by clicking "Show Results"
You can use this course and the previous ones anytime with GPS punching
Start time
Wednesday, July 15th, 6:15 pm
Organizers

Course setters: Andrew Bell

Major intersection
Woodbine Ave and Cosburn Avenue
Directions

From the Don Valley Parkway, Exit at Don Mills Road and go South. Turn left (east) on O'Conner Drive. Then Right (South) on Woodbine Ave, Left (east) on Cosburn Ave and finaly Left again on Haldon Avenue.

Location
Tayler Creek Park South

Map

Scale: 1:10000

Contour Interval: 5m

Revisions:

Format

The format of the courses is a bit different than in the past: we will use a Score-O format where each control has certain points (2,3,4,5 or 6) assigned and there is a time limit for the course. Controls can be collected in any order, so make sure that you plan ahead for the optimal course! If you exceed the time limit, there is a 2 point penalty for each minute.

The time limit for this course is 75 minutes.

These rules apply if you use the MapRunF application where you can track your time and register the control punches.