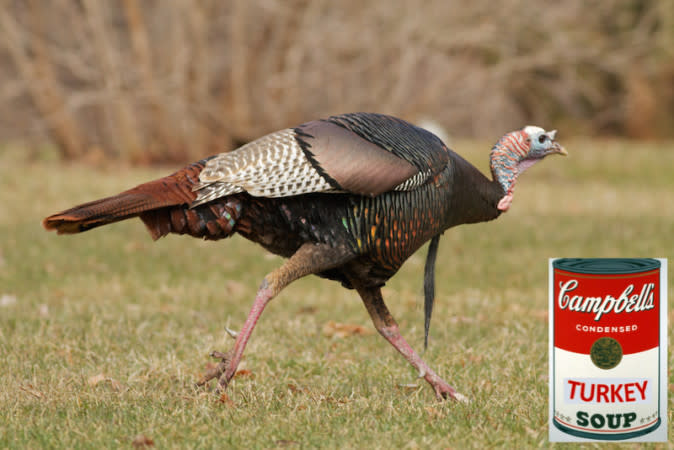 Condensed Turkey Soup in a can? No way! The title here refers to one of the longest-running annual orienteering events in Ontario. Started way back around 1982, says Don Ross, long time TOC stalwart member, when a few friends from both the Ukrainian Orienteering Club and the Toronto Orienteering Club (UKR and TOC ... TURK, get it?) joined together to hold a fall event around Thanksgiving. If you connect the dots, you'll understand how the name Turkey Trot came to be.
This year's edition, let's call it the 36th annual Turkey Trot (a great approximation, but the spirit of the fact is correct), will be condensed into a single day, but not lacking at all in terms of content. Many of you asked for a compact version, and we are delivering on that suggestion.
Your hosts, as usual, are both the Ukrainian and Toronto Orienteering Clubs, with the assistance of the Gators, an affiliate of UKR. Come one, come all, gobble, gobble!
Please sign up online, only a limited number of extra maps will be available.
P.S. Did I forget to mention there will be the usual excellent selection of PRIZES for the winners and as draw prizes. Nice!
Results
Start time
Sunday, September 16th, 1:30 pm
Registration

Time: 12:30PM

Organizers

Meet directors: Andrew Bell

Course setters: Oliver Tabay

Directions

After entering the park, please follow the signs toward Cedar Grove site.

Location
Albion Hills - Cedar Grove

Map

Scale: 1:10000

Contour Interval: 5m

Revisions:

Format

Classic Long Distance for Beginner, Advanced Beginner, Intermediate and Advanced.

Lengths:

1. Beginner - 2.0km - 2.5km*

2. Intermediate - 3.5 km*

3. Advanced - 4.5 km*

4. Advanced Long - 6.0km - 8km*

*Distances are aproximate.

Class/Course

1

2

3

4

Female

W<15

Beginner

W15-20, W50-64, W65+,

Intermediate

W35-49,

Advanced

W21-34,

Advanced Long

Male

M<15

Beginner

M15-20, M65+

Intermediate

M35-49, M50-64

Advanced

M21-34

Advanced Long

Cost

Prices:

$30 Beginner Clinic and 2nd Race.

Two Races:

$30 Adults

$20 Jrs/Srs (under 18/ over 60)

One Race:

$20 Adults

$12 Jrs/Srs (under 18/ over 60)

Two Races - TOC/UKR/GGO Club Members:

$15 Adults

$10 Jrs/Srs (under 18/ over 60)

One Race - TOC/UKR/GGO Club Members:

$10 Adults

$5 Jrs/Srs (under 18/ over 60)

Notes

Please note there is a $6.50 entry fee into Albion Hills conservation area that is not included in the entry fee.