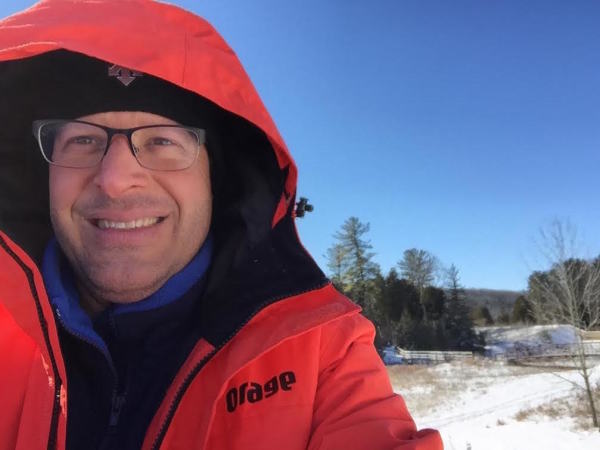 A rare Saturday date brings a return to the recently re-mapped Scanlon Creek Conservation Area, just north of Bradford, Ontario, off of Highway 11 (Yonge Street).
We think that many people haven't experienced the new map since the last event in February 2016, which was a very beautiful but extremely cold day. Fingers crossed that we will have a repeat of the pretty snow conditions again, but not the uber-cold!
The main event will begin promptly at 10:30 am with a mass start in the O-Cup series. The map is likely to be double sided, with two loops of the relatively compact park at play. Many trails will mean speed as well as navigation will be of the essence. Finally, the usual O-Cup handicapping system will attempt to make things equal among the ages.
For those who were asking, there will be toilet facilities at site, though not any running water
Prizes will be given as both door prizes and to several of the winners of the O-Cup race.
RACE DETAILS
For the O-Cup series of orienteering races some of the controls on the map are drawn inside a 'box'. Depending on your handicap (see below) you can skip a number of these controls. Ideally, the handicaps are adjusted so that the race is equally difficult for all participants, and everyone should finish at the same time.
There will also be a point-to-point BEGINNER course without any box.
Results
Start time
Saturday, February 10th, 10:30 am
Registration

Time: 9:30

Organizers

Meet directors: Eugene Mlynczyk

Course setters: Igor Palahnyuk

Directions

Navigate Highway 400 to the Highway 88 exit at Bradford, approximately 40 km north of Toronto. Travel east approximately 6 km to the main intersection in downtown Bradford (former Highway 11, also known as Barrie Street). Turn north and travel approximately 3 km to the 9th Line, with a sign for Scanlon Creek C.A. Turn right (east) and travel approximately 1 km to the entrance to Scanlon Creek C.A. on your left.

Follow the driveway past the entrance booth (where you should please pay your daily parking fee of $6 per vehicle, self-serve), bear right to the Nature Centre parking lot.

Further parking information:

Daily Parking - $2 per hour, $6 per day

LSRCA charges a parking fee of $2 per hour, with a maximum daily amount of $6. *New –Pay by Phone

There are three ways to pay parking fees to Scanlon Creek:

Download the MacKay Pay application and pay with your smartphone

Pay online at

mackaypay.com

Pay by calling 1-844-334-7078

The zone for Scanlon Creek is 3101.

The first time you run the app or visit the website, you will be required to set up a user account and payment method (credit card / smart card). Once your account is set up, paying for parking takes just a few seconds each time and adding more time is easy.

Location
Scanlon Creek Conservation Area

Map

Scale: 1:7500

Contour Interval: 5m

Revisions: TOC Major revisions: 2009 Ion Gheuca Updated Nov 2015 Ihor Palagnyuk

Format

The length of this run will depend on a participant's O-cup handicap. This race will feature the O-Cup Box which consists of a set of 6 to 8 checkpoints which participants may visit in any order. Particpants may skip check points in the box equal to their handicap point total. Handicap points are awarded as follows:

AGE
12-
13-14
15-16
17-19
20-34
35-44
45-54
55-64
65-74
75+
Female
6
5
4
3
2
3
4
5
6
6
Not Female
6
5
4
1
0
1
2
3
4
5
SPECIAL CASES
Handicap of 2: Women in the top 10 of Canadian orienteering rankings
Handicap of 0: Men ranked in the top 10 of Canadian orienteering rankings

Cost

BEFORE February 1

Adults: $20/person but ONLY $10 for TOC/UKR members
Youth: $10/person (16 & under) but ONLY $5 for TOC/UKR members

Beginner's Course: $10/adult or $5/youth (age 20 & under)

Family: $40.00
Community Groups(cubs, scouts, guides, cadets, etc): $10.00/person

AFTER February 1

Adults: $25/person but ONLY $15 for TOC/UKR members
Youth: $15/person (16 & under) but ONLY $10 for TOC/UKR members
Beginner's Course: $15/person or $10/youth (age 20 & under)
Family: $50.00
Community Groups(cubs, scouts, guides, cadets, etc): $15.00/person

Consider joining our club for the discount on this and all future UKR/TOC events for 2018.

Notes

A beginner's course, also suitable for families, will be set separately outside of the mass-start event. For this, you may start any time after 10:30 until around 11:00 am.
A mandatory parking fee of $2 per hour or $6 per day for each vehicle entering the park. Please ensure you pay this at the entrance gate upon arrival. This helps support the Conservation Area and keeps our relationship with the Conservation Authority in good standing.
There are likely no washroom facilities available on site; the nearest are in Bradford, several km to the south, including Coffee Culture, Tim Hortons, Starbucks for example.